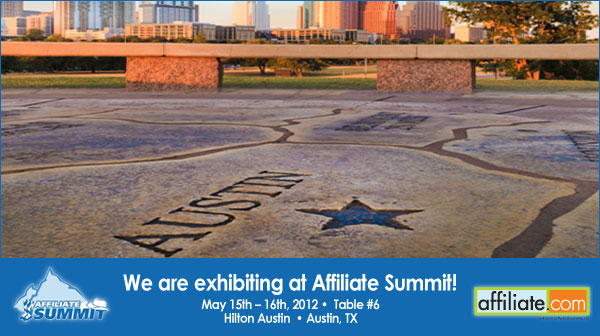 Team Members from affiliate.com are heading to Austin on May 15th and 16th for Affiliate Summit Central! Don't forget to stop by Table #6 to catch up with our team members. If you want to get started before the show, Publishers can contact Loren Zimmerman and Advertisers can contact Julia Suiter to find out how affiliate.com can help build your business!
Contact one of our team members who will be attending the show to set-up a time to meet in Austin!
We look forward to seeing everyone in a couple of weeks!

Loren Zimmerman
Dir. of Affiliate Relations
loren.zimmerman@affiliate.com
720-929-2493

Julia Suiter
Advertising Manager
julia.suiter@affiliate.com
720-*929-2832

Brian Chase
Sr. Affiliate Manager
brian.chase@affiliate.com
720-929-1987

Justin Salazar
Sr. Advertising Account Exec.
justin.salazar@affiliate.com
303-468-2616